Shop by Color















INVITATION GUIDE
Congratulations on your upcoming event. With a little planning, easy math and time you can create a beautiful and unique invitation by designing and making it yourself.
HOW TO GET STARTED
Pick Your Invitation Style
Select The Envelope Size
Do The Math
Choose The Papers
Create Sample Invitations
Write The Text
Proof Read
Print & Cut
Put It All Together
We have provided diagrams to help you work out your design and figure how much paper will be required. Looking through the papers and writing the invitation text can take some time, be prepared to create a few sample invitations and do basic math. Swatches are available on-line so you can test, color match and see what works.
GUIDELINES
The invitation is your guest's clue what to expect on your special day. Consider the time of day, formality of dress, reception style and location. Personalities can be reflected in the style and your budget should also be taken into account when selecting the envelope size and types of paper.
ADDRESSING
Allow yourself eight weeks prior to the mailing date.
THE MAIL
Take your invitation and all the enclosures to the post office and check the weight before buying stamps. When you start adding maps and enclosures the postage costs can increase. Always mail invitations "First Class" and remember oversized and square invitations will require more postage.
HOW FAR IN ADVANCE
Mail your save the date to out of town guests at least eight weeks in advance and the invitations six weeks before the date. For local guests, send you're save the date six weeks before and the invitation four weeks before the event. If your event lands on a holiday you should mail even earlier so guests have plenty of time to plan ahead.

When should I order paper for the big event?

We have found that most lagre projects require a special order. We suggest you place your paper order 4 weeks before you need to start cutting.
ANNOUNCEMENTS
Announcements are mailed immediately after the event to those who did not receive an invitation.
ENVELOPES
The outer envelope should be fully addressed on the front and the return address on the back flap of the envelope to insure the undeliverable invitations will be returned to you. If you choose an inner envelope the flap is not glued and the names of the guests are written on the face of the envelope.
HOW MANY
Determine the number of invitations you need, keeping in mind that is not the same number as the number of guests.
CHECK AND DOUBLE CHECK
Take your time and proof read the text very carefully before the invitation
is approved for printing then check again before they are mailed.
THE PRINTER
A commercial printer can help with cutting your paper, print layout and wording questions. Consider the ink color, lettering style and printing method. Make sure you have at least 25 more invitations than your actual count and 35 more envelopes because things happen and old friends always seem to pop up at the last minute.

LASER AND BUBBLE JET PRINTERS

You can print your own invitations with desktop publishing and a little time.
PAPER OPTIONS
Invitations can be printed on the actual paper, a panel card or vellum transparency paper. You can mount to a decorative backing paper, create a wrap, fold it or do a scroll the possibilities are endless.
YOU CAN DO THIS
That covers the basics for planning your invitations, now it's time to decide on a style, pick an envelope, choose the papers and do the math then make a few mock ups of your design.
ENVELOPE SIZES
| | |
| --- | --- |
| RSVP | 3 5/8 x 5 1/8 |
| A-2 | 4 3/8 x 5 3/4 |
| A-6 | 4 3/4 x 6 1/2 |
| A-7 | 5 1/4 x 7 1/4 |
| A-8 | 5 1/2 x 8 1/8 |
BACKING PAPERS
Do you want a floral paper for elegance or naturals for an informal feel or something bright to suggest a festive occasion?
PRINTED PAPERS
Use vellum for that translucent look or watercolor paper, card stock or panel cards.
LAYERING PAPERS
Several types of papers can be used to give depth and add texture depending on the weight and style of the invitation.
FLY SHEETS & ENVELOPE LINERS
Dress up your design with a float of lightweight paper cut to size, use a simple band of color or wrapped all the way around the invitation with Sanwa, Ogura Lace or Unryu. You can even create liners for your envelopes with your signature paper.
EMBELLISHMENTS
Personalize your creation with ribbon or decorative string; add a seashell or bit of twig.
HOW TO SPECK OUT 150 INVITATIONS
A-7 envelope: 5 1/4 x 7 1/4
invitation size: 5 x 7
parent paper: 20 x 30
20 divided by 5 = 4.0
30 divided by 7 = 4.2
4 x 4 = 16 units per sheet
for 150, you need 10 sheets
A-7 envelope: 5 1/4 x 7 1/4
flat paper size: 5 x 10
folded invitation size: 5 x 7
parent paper: 20 x 30
20 divided by 10 = 2
30 divided by 5 = 6
2 x 6 = 12 units per sheet
for 150, you need 13 sheets
parent sheet: 25 X 37
fly sheet: 5 X 7
25 divided by 5 = 5
37 divided by 7 = 5
5 X 5 = 25 units per sheet
for 150, you need 6 sheets
YOU DO THE MATH - WORK SHEET
A-______envelope______x______
divide invitation size into parent sheet
invitation size =______x______
parent sheet =______ x______
______divided by ______=______
______divided by ______=______
______x ______=______ per sheet
divide units per sheet by number on invitations
for ______you need ______sheets.

RECEPTION CARDS
Are placed in the invitation envelope.
RSVP CARD AND REPLY ENVELOPES
We suggest a RSVP if you are planning to serve a sit down dinner. Envelopes should be pre-addressed and stamped or you could use a post card format. Depending on the event you can also print RSVP and a phone number or reception following at the bottom of the invitation.
REHEARSAL DINNER INFORMATION
List location and time.
PLACE CARDS
Used to assign table placement.
PROGRAMS
List the participants and remember the event.
THANK YOU NOTES
When a gift is received, it is appropriate to send a thank you note as soon as possible.
MAPS
Showing location of events and addresses.
HOTEL & CAR RENTAL
Phone numbers and locations for your out of town guests.
INVITATION PARTY
Family members love to help, just have a party and assemble your invitations or favors.
(we suggest you do not serve red wine)
WAX & SEALS
To give your invitation a personal look
GUEST BOOK
Can be made or covered in your signature paper.
CARD BOX
Cover a box with your matching paper to hold gift cards, so they don't get lost.
CANDLES
Apply paper to glass candles with glue for table decorations or as a gift for your guest.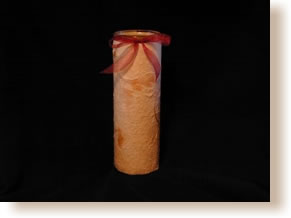 See how to "Project instructions" www.paperarts.com/howto/decorativecandle.cfm
GUEST FAVORS
Record your favorite music and insert your signature paper in the CD case or collect flower seed packets and a special poem in a vellum envelope with a bow.
PHOTOS
May be included with the invitation or sent with the thank you note.
CAMERAS
Cover disposable cameras and place them on your table for that finishing touch.
HINTS AND TIPS
Create a deckle edge by placing a metal ruler (cork side up) on the paper, dip a new paintbrush in tap water and draw a line with the water.

Let the paper become translucent and then tear the paper away from the ruler or straight up and towards you or across your hand while holding down the ruler. Each tear has a different effect.

We suggest you hand cancel invitations that have a wax seal at the Post Office.
Translucent envelopes work best with self-stick stamps and a fine "Sharpie" marker.
Glue layers of paper together with UHU stick glue and place under a weight till dry.
Mount translucent paper by placing the glue under the text lines only, so it does not show and let dry under weight.
Measure twice and cut once...
Use a bone folder to score paper prior to folding.


CONGRATULATIONS YOU ARE THE DESIGNER!



Please remember that everything on this web site is copyrighted material. PaperArts.Com does not give permission to copy the content of this web site without prior written release.
© 1998 - 2011 PaperArts.Com - All Text, Publication & Copyrights Reserved